WhatsApp's Latest Update: Screen Sharing For Video Calls
WhatsApp officially announced this exciting update on August 8, 2023, opening doors to a new era of interactive communication.
I'm so excited about the New WhatsApp Update that lets you share your screen during video calls! This is going to be great for so many things, like giving presentations, collaborating on projects, or even just showing your friends what you're up to.
But before I get into all the practical uses for this feature, let me just say that it's also going to be a lot of fun. Imagine being able to share your screen with your friends while you're playing a game, or watching a movie, or even just browsing the internet. It's going to be like having a virtual sleepover!
So without further ado, here's everything you need to know about the New WhatsApp Screen Sharing Feature.
WhatsApp's Versatile Screen Sharing
WhatsApp's New Screen Sharing Feature allows users to share their phone screen with other participants in a video call. This is similar to the functionality offered by other video conferencing platforms, such as Google Meet and Zoom. With this new feature, WhatsApp is aiming to position itself as a more versatile and user-friendly alternative to these other platforms.
The Screen Sharing Feature on WhatsApp can be used for a variety of purposes, including:
Giving presentations: If you need to give a presentation to your team or classmates, you can now do it right from your phone. Just share your screen with the video call and you're good to go.
Collaborating on projects: If you're working on a project with a group of people, you can use the Screen Sharing Feature to share your work with them and get feedback. This is a great way to save time and avoid confusion.
Showing off your skills: If you're really good at something, like playing a game or editing photos, you can use the screen-sharing feature to show off your skills to your friends and family. They'll be impressed, I guarantee it.
Having some fun: The Screen Sharing feature is also a great way to have some fun with your friends. You can play games, watch videos, or just chat. The possibilities are endless!
Additionally, the company announced the launch of landscape mode for mobile video calls, enhancing the viewing and sharing encounter with a broader and more immersive perspective.
As per report, this feature is progressively being made accessible across Android, iOS, and Windows Desktop platforms in stages. It's worth mentioning that the functionality may not be available to all users right away.
How to Share your Screen on Whatsapp
Here are the steps on how to share your screen on WhatsApp: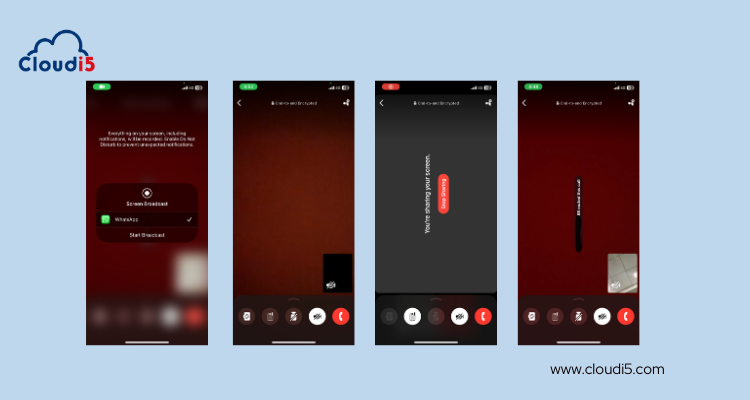 Make a video call with the person you want to share your screen with.
To share your screen during a WhatsApp video call, tap the Share button in the bottom action bar.
To grant WhatsApp permission to cast your screen, tap Start now. Once you have done this, WhatsApp will be able to share your screen with the other person in the call.
Select the app or window that you want to share.
The other person in the call will be able to see your screen. You can use your phone as normal while you're sharing your screen, so you can answer questions, take notes, or even just move around the screen.
To stop sharing your screen, simply tap on the More options icon again and then tap on Stop sharing.
To try the new screen-sharing feature on WhatsApp, follow the steps above. The screen sharing icon (a phone with an arrow on it) will appear if the feature is available to you. If you don't see the icon yet, it will be available to you in a few days.
With the new screen sharing feature on WhatsApp, you can share any app that is currently open on your phone. This includes apps like:
Documents
Photos
Presentations
Websites
Games
Any other app that you use on your phone
You can also share your entire screen, which can be useful for giving presentations or showing someone how to use an app.
Conclusion
Overall, the new screen sharing feature on WhatsApp is a great addition that makes the app even more versatile and useful. If you're looking for a way to stay connected with your friends and family, even when you're not together in person, the New WhatsApp Screen Sharing Feature is a great option.
Show 'Em What You're Workin' Wit'!